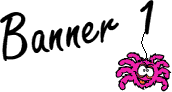 Banner 1 is a very simple desktop application allowing long banners to be printed on any Dot Matrix printer. The banners are made up of individual ASCII characters. The banner can be any desired size, the only limits are the physical paper size and number of sheets!

Because Banner 1 uses only ASCII characters it is extremely quick, and requires less ink. It has been developed from an old BBC Model B program, basically this version is identical only it has a WIMP front end for convenience.


Pricing and availability



Banner 1 is freeware.
Banner 1 is available NOW!



Click here to download Banner 1 Version 1.00, April 1993. 15K zip file.