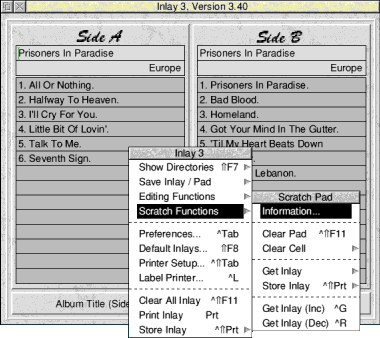 Inlay 3 is yet another development of an old BBC program from Spidersoft, yet apart from it's actual purpose the programs are now very different indeed.

Inlay 3 allows standard cassette inlays to be entered and printed. Inlay 3 allows inlays to be saved, and reloaded later - even a basic database system is available which allows over 200 inlays to be stored in a single file.

The screenshot shows the main screen in action, complete with its comprehensive menu structure.

Key features of Inlay 3 are :-





Full loading and saving, even individual sides can be loaded/saved separately


Scratch Pad allows 200 inlays to be stored


Simple label printing allows album/artist labels to be printed


Comprehensive additional editing facilities


At present, the major drawback with Inlay 3 is the lack of support for Acorn's !Printers application - all printing is done directly (meaning nasty control codes have to be used), default settings are used for the most common printers. A future version may be written providing full support for !Printers.

Pricing and availability


Inlay 3 is freeware.
Inlay 3 is available NOW!



Click here to download Inlay 3 Version 3.00, July 1992. 52K zip file.

Please note, this program requires the Interface module. Click here to download it. (2K).